Streetsblog Chicago
New Skyscraper Will Add Over 1,000 Parking Spaces Above a Subway Station
3:45 PM CST on January 19, 2018
Yesterday, the Chicago Plan Commission approved a $500 million mixed-use development to be constructed at the corner of Chicago Ave. and State St. on a parcel now containing a surface parking lot for Holy Name Cathedral. The development, "One Chicago Square", will contain 795 rental units, 75 condos, several floors for commercial use, and a whopping 1,090 parking spaces.
The existing surface lot has approximately 160 parking spaces, meaning the parking supply on this lot will increase by 580 percent in one of the city's densest, most walkable, and transit-dense neighborhoods. It is a shock to see city transit-friendly policies so greatly ignored.
Of these parking spaces, 225 are reserved for parishioners of the Holy Name Cathedral across the street, which is 65 more parking spaces than they currently have. The remaining 865 spaces would be for residents and commercial uses. It is not known if a parking space for residents will be attached to the price of the unit, or purchased/rented separately.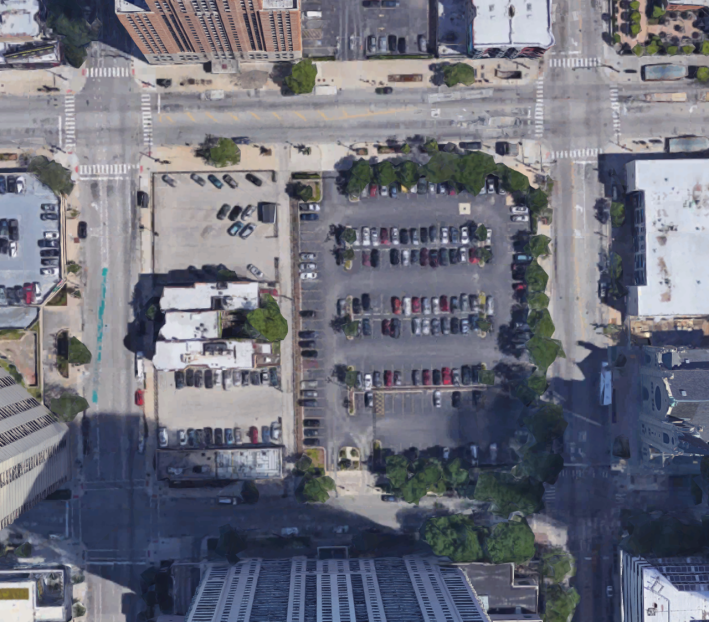 Just above the Red Line station at Chicago, this development could technically be built with zero parking spaces thanks to Chicago's transit-oriented development (TOD) ordinance, which allows developers to reduce by 100 percent the commercial parking minimums and by 50 percent the residential parking minimum. Through an additional process, the residential parking minimum can also be reduced to zero spaces.
Since its introduction in 2013, the TOD ordinance has allowed developers to provide fewer parking spots in residential and commercial developments within 600 feet of 'L' and Metra stations. The ordinance was revised in 2015 to permit developers to totally eliminate parking from developments within 1,320 feet (¼ mile) of those stations.
It is clear that, to maintain the city's progressive TOD policy, the ordinance is due for another update – especially in the downtown area. Any development this close to transit should be subject to a parking maximum, instead of simply eliminating the minimums.
The development site currently sits on land with mixed zoning, DX-7 and DX-12; the developer is seeking to change the zoning so the entire parcel is zoned DX-12. The existing parking minimum in the DX-12 zone would require 478 parking spaces for residential use (0.55 spaces per unit) and 0 spaces for commercial use. With or without the TOD ordinance, this development is far exceeding the amount of parking that should be built in a downtown district.
Alderman Brian Hopkins (2nd Ward) stated earlier in the week that he was "leaning toward support" for the development – already approved by the Plan Commission – thanks to a "Chicago Avenue transit improvement program" to be required as part of the development. This program will, according to Hopkins, "address the traffic backups on Chicago Avenue". The alderman may have misspoke, as the only transit-related commitments made during the Planned Development process and confirmed by his office involve paying up to $40,000 for the construction of a single "concrete bus pad" on Dearborn St. just north of Chicago Ave., and moving a CTA bus shelter on Michigan Ave., three blocks away from the development.
Concrete bus pads, unfortunately, don't do anything for traffic or bus riders.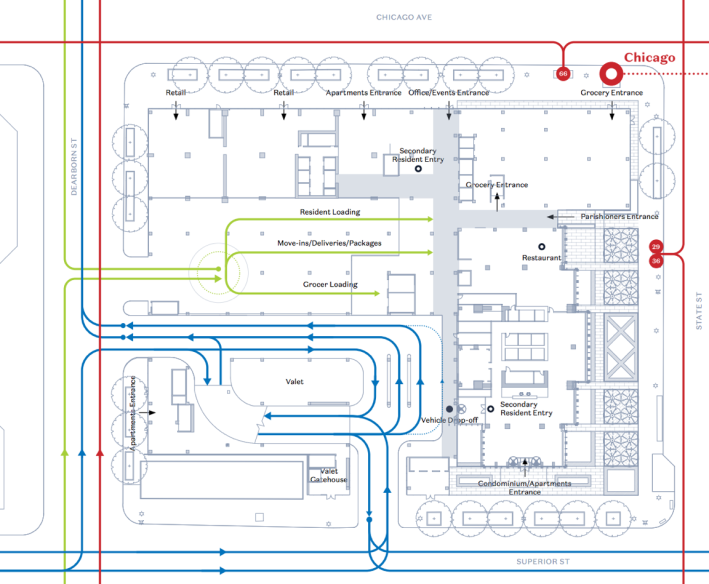 The commitments made as a result of the now-approved Planned Development process also include requiring the developer to pay for a Divvy station on the property, but that is where the sustainable transportation requirements end. The developer will also be responsible for changing eleven traffic signals, and adding left- and right-turn arrows at several intersections along Chicago Avenue. The ward itself will move several metered parking spots on Chicago Ave. to unmetered blocks in the 2nd Ward in order to add more traffic lanes on Chicago Ave.
The zoning committee must still approve the Planned Development.
Hopkins claims that the result of adding additional traffic lanes "will be better traffic conditions," but this isn't true. Multiple studies found that increasing the capacity for car traffic – adding more lanes – eventually results in the same amount of traffic filling in the new capacity, an outcome called induced demand.
One way to increase the amount of people, not just vehicles, moving along Chicago Ave is to implement bus lanes along the corridor. In fact, the CTA has provided data showing that its #66 Chicago buses comprise just 2 percent of the vehicle traffic on the street, but carry about 30 percent of all people travelling along the street.
Streetsblog and other local transit advocates have already covered the need for bus lanes on Chicago Ave., one of the city's most-travelled bus routes. By improving the level of service, bus lanes could also bring back some riders on the route, which saw a 4.9 percent decrease in ridership between 2015-16.
The development approval also comes at a time when the CTA is wrapping up a multi-year study regarding "Bus Slow Zones" on 79th St and Chicago Ave, which it plans to deliver at the end of this month. While a copy is not yet publicly available, notes from Alderman Hopkins's office suggest that dedicated bus lanes and locations for queue jump signals are recommended for this route. Unfortunately, these recommendations are not currently required as part of the development, and while Hopkins' office has stated they will work with the developer to accommodate the CTA's recommendations, it is not as strong a commitment as those that end up being baked into the Planned Development (like the new Divvy station).
Because the parking spots to be removed are metered spots owned by Chicago Parking Meters, LLC, they will be moved elsewhere in the ward. Normally, moving metered parking is a process that the city avoids and has used to justify not installing bus and bike lanes on city streets. Even if the process of moving metered parking is a difficult one the city wants to avoid, it is evident that it is a worthwhile procedure when it concerns moving more cars, but not always when it concerns moving more people on public transit.
The increase in car trips that will occur as a result of new travel lanes, and all of the additional parking, also poses an increased threat to people walking or bicycling on Chicago Ave. From Paulina St to State St, Chicago Ave is designated a "high-crash corridor" by the city's Vision Zero Action Plan, and as such should be treated with priority when it comes to safety enhancements. However, the only major actions taken here are to modify traffic signals with the goal of improving car traffic flow only – there are no explicit plans for improving the safety of walking and biking along Chicago Ave.
Adding capacity for over 1,000 vehicles and increasing roadway capacity is a misguided approach to solving traffic issues, especially in a dense, transit-rich neighborhood. The next step for this development involves approval by the Committee on Zoning, Landmarks, and Building Standards, which holds regular public meetings at City Hall, and is your opportunity to provide feedback regarding the development.
The next meetings are scheduled for January 25 and February 22, but the agenda for the latter has not yet been set. Alderman Hopkins's office can be reached online, via email at ward02@cityofchicago.org, or at (312) 643-2299.
Stay in touch
Sign up for our free newsletter