Beyond Chicagoland
It's Cheap and Easy to Get Around Los Angeles by Transit
8:58 PM CST on January 17, 2018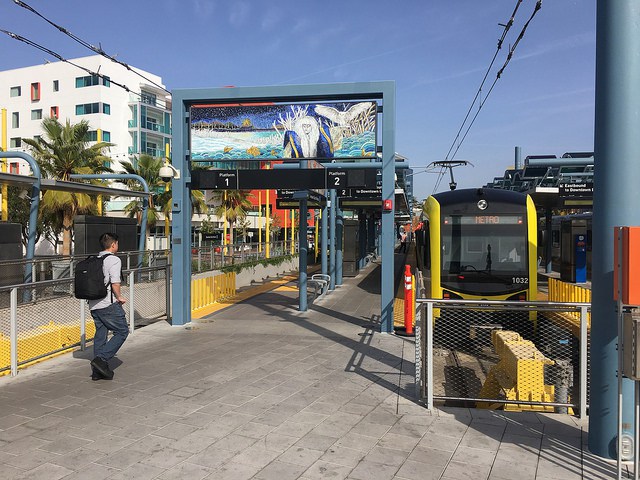 I got home last night from a four day leisure trip in Los Angeles with a friend who was visiting the United States for the second time. He chose the City of Angels as the place for us to meet before his conference in another state. And he wanted to rent a car for the entire trip.
I convinced him that Los Angeles has sufficient transit, including bike-share and ride-hailing, so that renting a car wouldn't be necessary and would actually be a bad idea.
(This post is a mix of a travelogue and discussion about the differences between transit in Los Angeles and Chicago.)
There are two transit options from Los Angeles International Airport. While neither is as good as having the 24-hour Blue Line to and from O'Hare airport, or Orange Line service Midway, LAX has the "Flyaway" service, which uses relatively comfortable coach buses with free Wi-Fi and power outlets. One issue is that these are low capacity buses and seats are first come, first served. A majority of the trip is spent in express lanes on the freeway but there's some traffic downtown when the express lanes end.
The other option is to take a free shuttle bus to the nearest rail station on the Green Line, after which you have to transfer to the Blue Line to get to downtown. This route, however, takes more than an hour and a half – far too long to be convenient to the city center.
I chose to stay at a hotel two blocks from the MacArthur Park station where the Red and Purple Lines stop, and a block from major bus routes, increasing our options to move in all directions. The Red Line goes to Hollywood in the west while the Purple Line goes to Koreatown in the west; both lines head east to downtown and Union Station.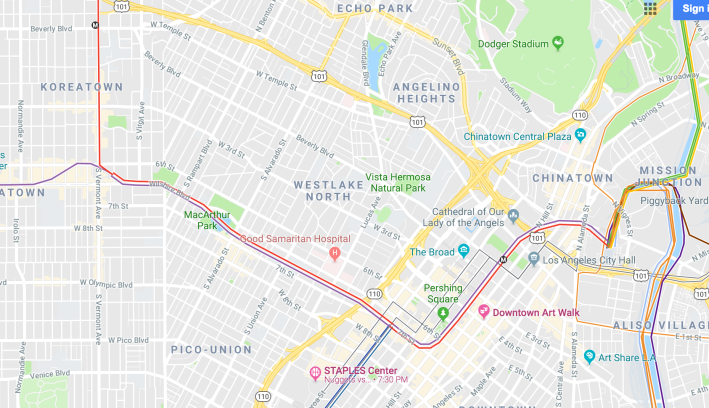 To get to Griffith Park and the Griffith Observatory, it was easy to take the Red Line to the Vermont/Santa Monica Blvd. station and then take a DASH bus, operated by the city's transportation department, to the top of the hill for 50 cents extra.
A day pass to ride all Metro transit routes is $7. The pass cannot be used on DASH routes. I recommend buying a TAP card as soon as you can. It works the same as Ventra but it doesn't require you to spend $5 on the card itself, like the CTA does (the CTA refunds the $5 as transit credit if you register it). The TAP, on the other hand, costs only $1. A single fare is $1.75, cheaper than the current $2 Pace bus fare, $2.25 CTA bus fare, and $2.50 'L' fare, rates that kicked in on January 8.
Add some cash to your TAP card as "stored value" so that you can easily board DASH routes and routes from other operators. You can have an active day pass in use simultaneously: transit routes that can use the pass will accept that and not your stored value. Since the day pass is only $7, choosing it is really a no-brainer. And rail routes operate until 2:30 a.m. on Friday and Saturday, so you don't have to end your evening early, and there are also late-night bus routes.
Some of the bus routes in Los Angeles have bus-only lanes. In fact, L.A. has nearly nine times as many miles of bus lanes as Chicago.
After hiking in the park we took a bus to Little Tokyo to have some sushi and bibimbap – at the same restaurant. When in Little Tokyo you have to walk through the pedestrian street. It's really a privately owned outdoor mall, but it's popular, just like real pedestrian streets in Asia and Europe.
After buying some sweet rolls we walked a few blocks east to Angel City Brewery, which has a beacon that welcomes you into the Arts District, née warehouse district. After getting a beer here we wanted to try one of the downtown bars.
My knees were sore from hiking downhill so I didn't want to walk for 23 minutes to the bar. Lo and behold, a bike-share station was across from the brewery. The service is operated by L.A. Metro and funded by motorists paying tolls on the same express lanes the Flyaway bus uses. And it has a pay-per-ride option that worked perfectly for us in this situation. We quickly decided that we weren't going to need a day pass on the bikes because of our plans for the next day.
A swipe of the credit card withdrew $3.50 per person and after a brisk bike ride across town we arrived at the Pershing Square docking station in about eight minutes. That's the best time-dollar ratio that Los Angeles transportation systems had to offer at that moment!
While it was convenient to pay for a single ride at that moment, I think the price should be cheaper to encourage more use of the system. Dockless bike-share systems typically charge only $1 for a 30-minute ride, while docked systems like D.C.'s Capital Bikeshare charge $2. The L.A. Metro bike-share has the same feature of offering unlimited number of 30 minute rides for pass holders as Chicago's Divvy network. Metro charges pass holders $1.75 for each additional 30 minutes and $3.50, again, for single rides that last longer than 30 minutes.
And instead of using credit cards all the time, it should be possible to deduct the single-ride fee from a TAP card's stored value; there's already an integration between TAP and the bike share, something that Ventra may have eventually offer.
People who live in Los Angeles can use their TAP cards as their member card the same way Divvy users in Chicago have a key fob. However, in my situation, it would have been nice to agree to the terms and conditions once for my TAP card and then tap it next to the bike I wanted to pay per use.
The second day we went to the Getty Center, which is not an easy trip by transit. We spent a fair amount of time on the 720 Rapid bus route; it makes fewer stops than the #20 but both use bus lanes on parts of Wilshire Blvd.
One thing that the 720 doesn't have is all-door boarding. Allowing riders to hop on at any door would significantly diminish the time spent at bus stops. The CTA is trying this out at the Belmont Blue Line station, albeit in a non-standard and hard-to-replicate way.
A second bus, leaving from Westwood, will drop visitors off at the free tram that that takes you up the hill to the Getty Center.
As we were walking across the road from the bus stop to the tram station, we could see that the Getty doesn't charge enough for parking: motorists were lined up on the road in both directions waiting to get into the parking lot. And this was at 2 p.m. to get to a museum that closes at 5 p.m.
We headed back into town after visiting the Getty and walked from the 720 bus on Wilshire to a happening strip mall in Koreatown on 6th St. and Alexandria Ave. This strip mall was really something else: It had free valet service, which allows for parking cars in the aisles, increasing the lot's capacity. This was common in neighboring strip malls and ones I saw in Boyle Heights in East L.A.
There was a hiccup getting home via transit after eating. Instead of walking a few blocks to the Purple Line station to head back to the hotel one stop away, we walked around the corner to catch the #81 bus route. Every transit app I use said it was coming in six minutes. They were all wrong. After waiting six minutes, we started walking. Then, two blocks later the bus was pulling up behind us and we jumped on and jumped off a block from our hotel – one block closer than the Purple Line could have taken us.
Pedestrian infrastructure in LA is a bit different than in Chicago. Los Angeles has many more all-way crossings than Chicago, but they also have far more beg buttons. And I noticed that people there don't cross the street without a walk signal, even if that means they're waiting for a second light cycle because no one pushed the beg button. What I really like at their intersections are the super wide crosswalk markings (they look about three times wider than Chicago's), which puts the stop bar, and cars, further back from the intersection.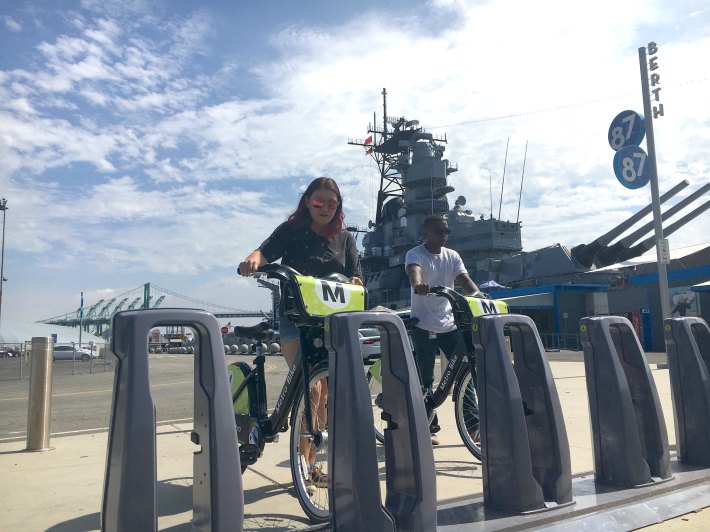 One thing you might have noticed from this travelogue is that we spent a lot of time in transit. We did, but I think the alternatives would have been worse:
If we rented a car we would have spent a lot of money on the rental price, gas, and parking, not to mention all of the risks involved, like getting into a crash and getting a citation. Then there's the unproductive time looking for parking and all of the pollutants we would have contributed to the already smoggy air.
Taking car services everywhere. Los Angeles is a huge place and this would have been just as expensive as the first bad alternative. I took a car service once because I needed to get to Highland Park to the hotel so I could arrive to meet my friend when he arrived.
The total cost of traveling per person included $21 for three 1-day passes, a $3.50 trip by bike, and a roundtrip on the Flyaway for $9.75 each – or about $44. (On the fourth day I was by myself and I bought a day pass to ride the bike share.)
On buses and trains you can look out the window, and chat and enjoy each other's company without the stress of driving. It's enjoyable, cheap, and preferable to use Los Angeles transit to get around the city for a four day trip.
Transportation planner and advocate. Steven also created Chicago Cityscape, a site that tracks neighborhood developments across the city.
Stay in touch
Sign up for our free newsletter