Bicycling
Not Lichen It: Injured Cyclist Wants Park District to Address the Lakefront Algae Problem
3:41 PM CDT on September 14, 2017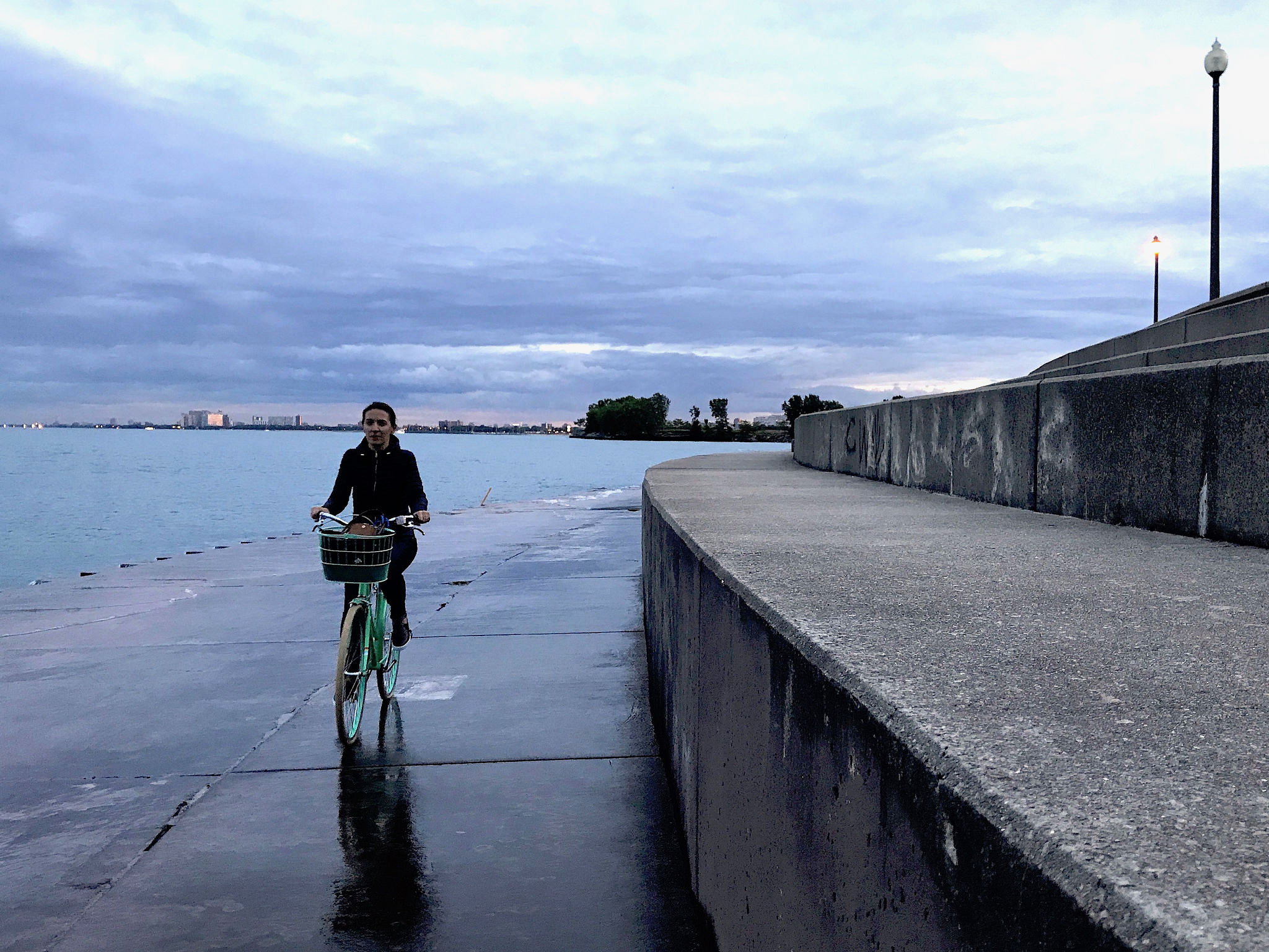 [Streetsblog Chicago editor John Greenfield publishes a weekly transportation column in the Chicago Reader. We syndicate the column on Streetsblog Chicago after it comes out online.]
Talk about a lousy way to spend your birthday. On Labor Day, Stephanie Reid was biking along the lakefront to 12th Street Beach, where she planned to meet up with friends to celebrate turning 30. Near Adler Planetarium she wiped out on a patch of slippery, algae-covered concrete, winding up with a broken arm, a dislocated shoulder, and some nasty road rash. Now she's calling on the Chicago Park District to take steps to prevent similar mishaps—or worse—from happening to other folks.
Reid works in HR for a West Loop marketing firm and lives in Logan Square with her six-year-old daughter, Noelle. She's a year-round bike commuter and uses cycling as her main form of transportation. In fact, Reid has been known to ride to gigs with her marching band and performance art group Environmental Encroachment via what she calls a "bike train," towing Noelle on a trailer cycle attached to her seat post, with her sousaphone bringing up the rear in a baby trailer.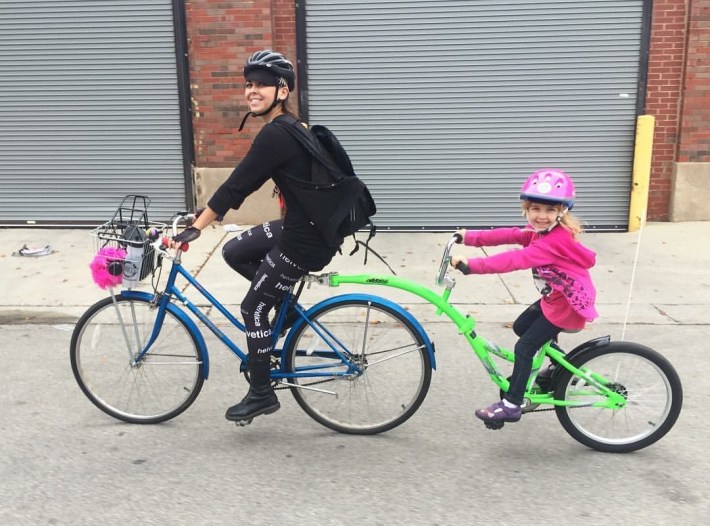 Cycling solo around 11:30 AM on the day of the crash, Reid was headed southbound along the Lakefront Trail toward the party. It's possible to bike to 12th Street Beach, which is located just south of the planetarium, by leaving the trail via a ramp next to the Shedd Aquarium and heading east to the end of Solidarity Drive. Instead, Reid exited the trail northwest of the aquarium, taking a path to the lowest level of concrete revetment that encircles the beaux arts building. From there one can ride east along the water to the Adler, circumnavigate that institution, and then reach the beach without dealing with motor vehicles.
"I considered Solidarity Drive, but it seemed like going around the planetarium was the most direct way," Reid says. "I'd done it before. You're less impeded by cars." She adds that it's common to see people strolling, jogging, skateboarding, and biking on the stretch of revetment between the Shedd and the Adler.
Riding on that stretch on Labor Day, Reid detoured around some people on foot to a damp area of the promenade. "It looked like it was just wet but it was actually coated with algae, which wasn't really visible," she recalls. "My bike came out from under me and I skidded across the concrete." She came to a stop a foot from the water's edge. "What if I'd fallen the other way and ended up in the lake with a broken arm?"
Reid landed on her right side, feeling her shoulder shift on impact. She couldn't move it, and the pain was intense, so she suspected it was dislocated. Her neck and ribs also ached, and parts of her shoulder and leg had been scraped raw.
The pedestrians Reid had avoided were the first people to come to her aid, and they used water from her bike bottle to rinse off the abrasions. A couple sitting on the concrete steps told her she was the second cyclist they'd seen crash on the slimy surface that morning. She gave her key to a stranger to lock up her bike, then took a Lyft to an urgent-care center. She didn't call 911 because she wanted to avoid a hefty ambulance bill.
Reid eventually wound up in the emergency room at Rush University Medical Center, at Harrison and Ashland, where she was diagnosed with a lateral fracture of the humerus—the upper arm bone—near the shoulder. She spent five hours in the ER. "Luckily my friends were amazing and moved the party from the beach to the hospital, so half of Environmental Encroachment was there," she says.
One person who didn't get the memo was Reid's significant other, Pete Macaluso, a 28-year-old computer programmer. She called him after the crash, but he was biking to the party and didn't pick up. That was unfortunate, because he wound up wiping out on the same stretch of wet revetment and struck his elbow, roughly a half hour after her collision.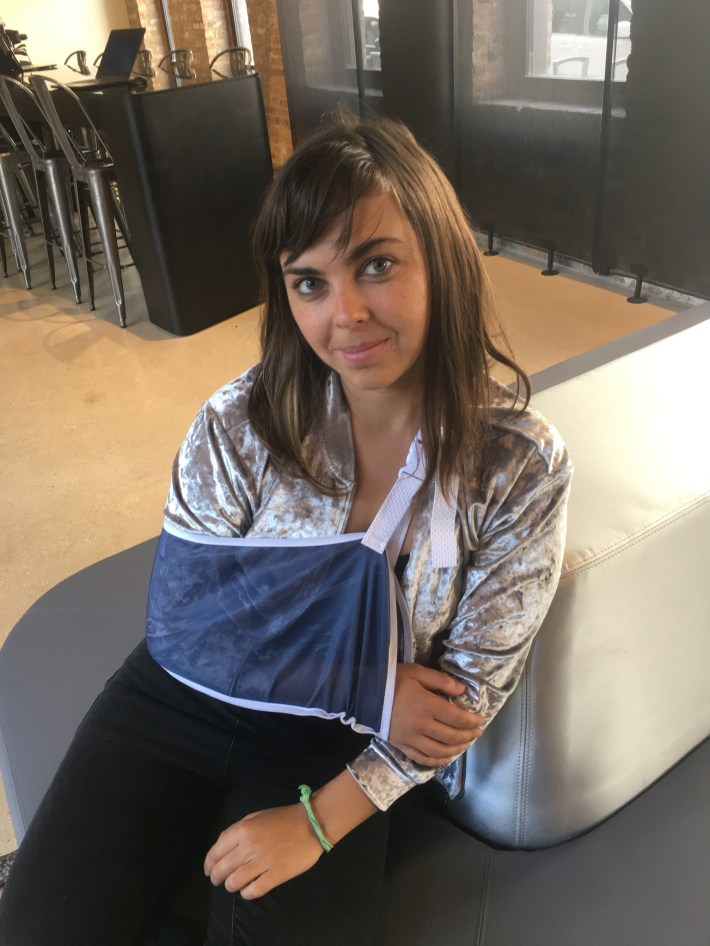 "When he went to the lifeguards at the beach for a Band-Aid, they were like, 'Oh yeah, we've heard about other crashes at that spot,'" Reid says. "That's the thing that gets me." Macaluso sent her a photo of his injury the next day; his elbow had swollen to the size of a baseball.
Two days after her misadventure, Reid was back at work with her arm in a sling—due to the nature and location of the break, a cast wasn't an option. "It's just a dull ache, but it really sucks when I sneeze," she says. "It makes sleep rather difficult." She's bummed because an orthopedic specialist recently told her she needs to stay off her bike for three to four months.
The day after the crash, she returned to the scene and wrote "SLIPPERY—CAUTION!" on the concrete in pink chalk, with an arrow pointing to the patch of algae. She also posted warnings to various local Facebook groups for cyclists, as well as on the forum of the Chainlink, a social networking site for bike enthusiasts.
In response, other Chainlinkers shared stories of their own mishaps. Ernesto Martinez-Ordaz said that he wiped out on algae near the planetarium in the summer of 1994 and badly scraped up his hip. He added that a couple weeks ago he was riding on the lakefront near Ohio Street Beach when a cyclist coming from the other direction slipped on algae and careened into his path. "I went over the handlebars and fell on top of his bike," he wrote. Luckily Martinez-Ordaz was uninjured. "[The algae] was caused by lots of water on the path from the waves."
That's what Chicago Park District spokeswoman Jessica Maxey-Faulkner said after I told her about Reid's case. I emailed Maxey-Faulkner on Labor Day evening, and reached her by phone last Wednesday morning. "The lake levels are high right now," she responded. "[Algae] will happen when lake levels are high, and we have warm water too." Wednesday afternoon she told me that workers were removing algae from the site where Reid crashed.
When I visited the revetment at sunset that evening, waves were indeed spilling onto the concrete, creating a hazardous situation for cyclists. I found some slick traces of algae, but there were also spiral marks on the promenade resembling a Slinky, which may have been left by a machine used to scrub the promenade. (Maxey-Faulkner didn't respond to an email with a photo asking for confirmation of this.)
Reid's not yet sure what her medical bills will be. "I don't even want to think about the ER costs," she says. But she's planning to file a personal injury claim with the city, on the advice of bike lawyer Michael Keating (a Streetsblog Chicago sponsor).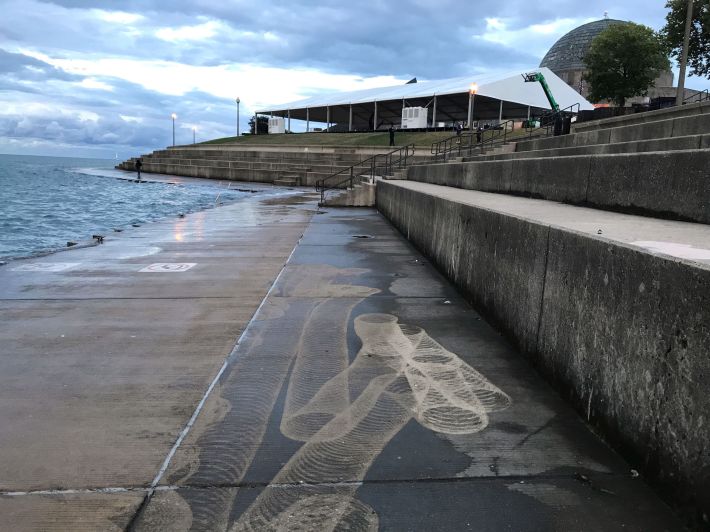 Moreover, Reid wants to do what she can to prevent other cyclists and runners from suffering the same misfortune. There are "No Diving" graphics painted on the revetment, she notes: "Maybe the park district should add some signage saying, careful, it's slippery." Maxey-Faulkner didn't answer my inquiry on whether the agency plans to install new warning signs or markings.
"I understand that algae occurs naturally, but so do a lot of other hazards," Reid says. "I just don't want this to happen to anyone else." Let's hope the park district does what it can to help ensure that a rolling bike doesn't slip on the moss.
Update 9/14/17: On Monday Reid reported that the park district's risk management department contacted her and said they were sending a field team out that day to look at conditions on the lakefront.
In addition to editing Streetsblog Chicago, John writes about transportation and other topics for additional local publications. A Chicagoan since 1989, he enjoys exploring the city on foot, bike, bus, and 'L' train.
Stay in touch
Sign up for our free newsletter