Beyond Chicagoland
Slow Roll Chicago: Vision Zero Must Address Structural Racism as a Cause of Traffic Violence
11:42 AM CDT on September 7, 2017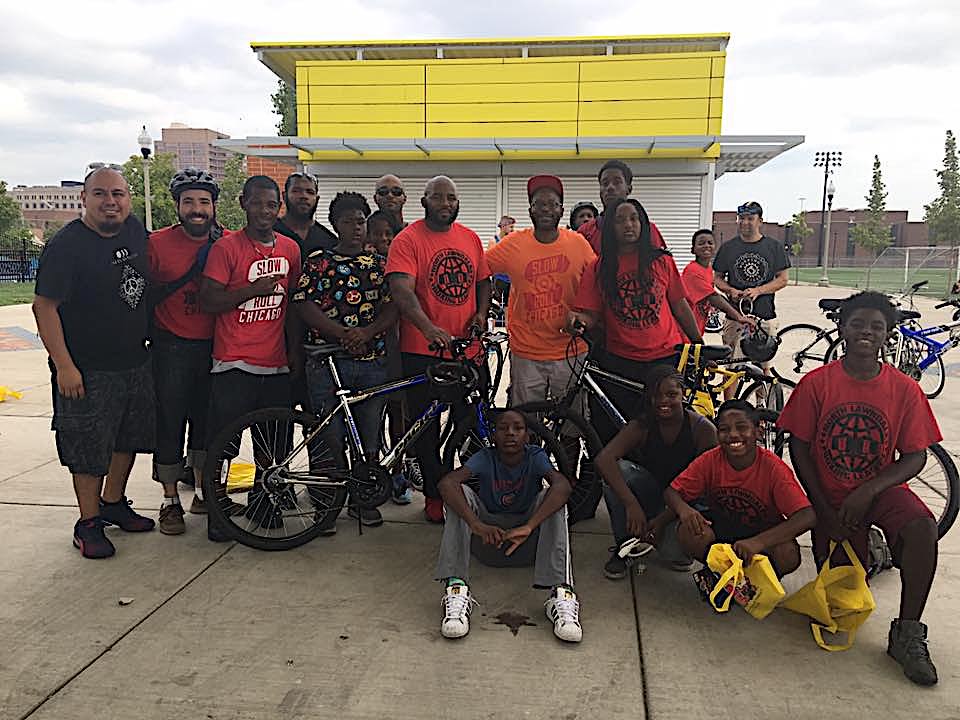 [Streetsblog Chicago editor John Greenfield publishes a weekly transportation column in the Chicago Reader. We syndicate the column on Streetsblog Chicago after it comes out online.]
Before Slow Roll Chicago cofounder Oboi Reed could get back to work advocating for transportation justice in Black and Latino communities, he first had to overcome the medical condition that Winston Churchill reportedly called his "black dog"—clinical depression. In early 2016, about a year and a half after he helped launch the bike group, which promotes cycling on the South and West sides as a strategy to improve health and economic outcomes and reduce violence, he experienced a crippling depressive episode that put him out of commission for the next year and a half.
"My brother is a brilliant, ambitious and passionate visionary and gives more of himself than he can sometimes sustain," says Reed's older sibling Khari Reed, a healthcare administrator. He says that a couple of months ago it became clear the depression was lifting when Oboi finally got back on his bike again and rode some ten miles from the South Loop to Oak Park.
Remarkably, just days after Oboi Reed made his first public appearance again with Slow Roll on a July 29 tour of the Beverly neighborhood, he sprang back into action with a new campaign could have implications for the nationwide Vision Zero movement to eliminate crash fatalities. Reed and other advocates of color are arguing that American efforts to adopt this zero-tolerance approach, which began in Sweden in 1997, have been flawed because they haven't focused on the relationship between structural racism and higher traffic violence rates in Black, Latino, and low-to-moderate income neighborhoods. They also say that transportation professionals and safety proponents have failed to engage in a respectful and meaningful way with the communities most impacted by Vision Zero programs, particularly when it comes to the question of using increased policing as a crash reduction strategy.
Back in June the Chicago Department of Transportation released the long-awaited Vision Zero Action Plan, a blueprint for eliminating serious and fatal crashes by 2026, created with input from a dozen city agencies, as well as many community organizations and local leaders, but no public hearings. The document identifies the city's high-crash corridors and high-crash areas—almost all of the latter are predominantly Black and Latino communities on the South and West sides—and lays out strategies to address traffic violence using engineers, education, and enforcement. The effort launched this summer with a pilot outreach program in Austin, North Lawndale, and Garfield Park.
On August 7 the Active Transportation Alliance sent out an invite for a Vision Zero Chicago summit, that would double as a fundraiser for the group's advocacy efforts. On August 10 Streetsblog Chicago first reported on Reed's objections to the planned summit. He argued that the $50 entry fee, weekday morning event time, and downtown location practically ensured that few West-siders would attend, and noted that there were no people of color on the announced speaker lineup. He called on Active Trans to cancel the summit and create a new event with full input from Vision Zero focus community residents. Reed went into more detail on his position in an August 16 Slow Roll blog post.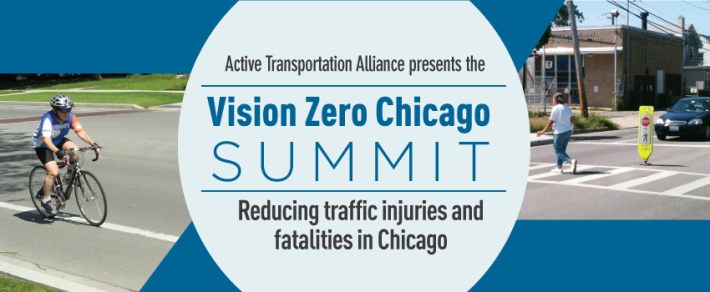 On August 17, in response to the concerns of Reed and other leaders, Active Trans director Ron Burke announced that the summit had been postponed and apologized for "mistakes in how the event was rolled out."
Following this small victory, on August 23 Reed published "A Matter of Life and Death: Vision Zero in Chicago," a detailed manifesto on the problems with the city's plan. It was written in collaboration with Rutgers University researcher and adjunct professor Charles T. Brown, who studies transportation equity issues, and Ronnie Matthew Harris, leader of the South side transportation advocacy group Go Bronzeville. The document demands greater ownership of the Vision Zero planning process by people from African-American, Latino, and low-to-moderate income communities. It also argues that in light of the Chicago Police Department's record of civil rights violations, including high-profile police misconduct cases such as the Laquan McDonald shooting, increased traffic enforcement in the focus neighborhoods has the potential to do more harm than good.
After thanking Active Trans for postponing the event, the authors call for the organization to undergo a "transformative restructuring" with a new focus on racial justice. They also announced plans for a research project led by Brown, using data analysis and surveys "to better understand the root cause of transportation-related inequities and injustices" in underserved Chicago neighborhoods.
In response to Slow Roll's statement, CDOT spokesman Mike Claffey says that the department welcomes feedback on the Vision Zero process and looks forward to working with the group and other stakeholders. "The release of Chicago's Vision Zero Action Plan in June was not the end of the process but the beginning of an effort to start developing the policies and strategies for reaching zero."
On August 29 four board members from Active Trans released a statement arguing that equity and racial inclusion are central to the group's mission. They pointed to statements in the organization's current strategic plan. "We believe that mobility equity is fundamental to human and civil rights," it states. "We are committed to reversing… disparities by making equity a foundational principle of our work." They added that they brought up these tenants because of the concerns recently raised by Reed and others. "We value these principles but recognize that we can always do better."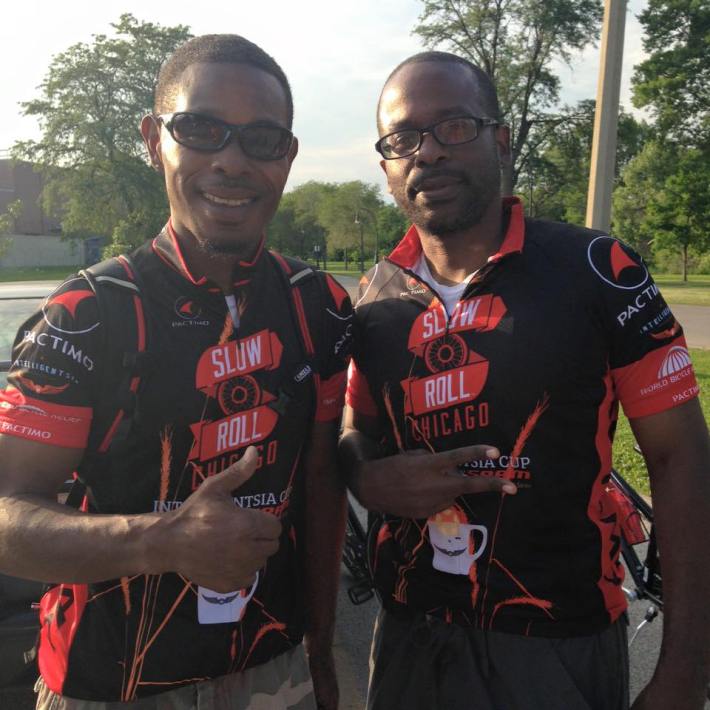 On August 31, Reed led an online discussion on various social media platforms, with participation by transportation advocates and activist leaders from across the country, including staff from the Vision Zero Network, the organization spearheading the national movement, and New York City's Transportation Alternatives.
During his presentation, Reed outlined recent events in Chicago and acknowledged the statement from the Active Trans board members. "It's fine," he said. "But there's something wrong with that organization that allowed that summit to go forward in the first place. There's a blind spot, there's implicit bias, there's structural racism."
In addition to calling for Active Trans to do additional soul searching and restructuring, Reed argued that additional traffic enforcement in communities of color should be taken off the table as a Vision Zero strategy until the CPD makes significant headway in eradicating police misconduct. "We don't want increased police interaction in our neighborhoods, not until racism [on the force] is dismantled," he said. "You want to do traffic enforcement? Go do it in Lincoln Park, go do it in Lakeview." He asserted that Chicago should be able to meet its goal of eliminating traffic fatalities over the next decade via street redesigns that protect vulnerable road users and discourage dangerous driving, plus better safety education.
Reed argued that the city was wrong to publish its Vision Zero plan without first vetting it through a public input process. CDOT is hosting three Vision Zero open houses on the West Side at the end of September, and Reed said Slow Roll plans to spread to word to local residents to help ensure a robust turnout.
He went on to assert that so far the national Vision Zero movement has made the mistake of addressing the symptoms of unsafe streets, but not structural racism and wealth inequality as root causes of high traffic violence rates in underserved communities:
They're addressing texting and driving, they're addressing running red lights, they're addressing speeding. All of these are dangerous behaviors that need to be... curtailed because they lead to traffic deaths. However, only addressing the symptoms does not do anything about the root cause of these symptoms. Why are people are people poor, why do we have healthcare disparities, why are people rushing, why are people distracted, why do people not care?
Reed's overarching message, which could have a ripple effect in other cities, is that residents of the Black, Brown, and low-to-moderate income communities most ravaged by traffic violence need to be the designers and owners, rather than simply the customers and consumers, of the Vision Zero product. "That's not the position we're going to be in," he says. "Not in Chicago, not on my watch. The city of Chicago is going to get this right."
In addition to editing Streetsblog Chicago, John writes about transportation and other topics for additional local publications. A Chicagoan since 1989, he enjoys exploring the city on foot, bike, bus, and 'L' train.
Stay in touch
Sign up for our free newsletter