Bicycling
This Year's Tour de Fat Didn't Have the Same Community Feel, But It Was Still a Fabulous Fest
6:57 PM CDT on August 4, 2017
For many years the Chicago stop of New Belgium Brewery's Tour de Fat festival, a celebration of beer, music, and bicycle culture, has served as the most important annual fundraiser for West Town Bikes, the Humboldt Park-based youth education center. In previous years the fest was staged in Palmer Square, a relatively compact green space in the bike-friendly Logan Square neighborhood, where admission was free and the event had a distinctly community-oriented vibe.
But after years of complaints from some neighbors who didn't care for having their local park taken over by this fun-filled, but noisy, happening, this year the fest was moved to Northerly Island on the lakefront. With The Roots, the nationally known hip-hop act as the headliner, the tour stop was turned into a ticketed event, more like a conventional concert. Since a friend was kind enough to comp me a ticket, I got to experience the fest in its new format.
When I got there I saw that there was plenty of bike parking and lots of cycles locked at the entrance, so that was a good sign. But let's state the obvious: Huntington Bank Pavilion at Northerly Island is not Palmer Square. Making my way toward the stage, I had ample opportunities to buy bottles of wine, fancy and greasy eats, and there were typical stadium vendors, but not the pedaling peddlers of Tour de Fats past. However, opposite the stage was the typical Tour De Fat sideshow set up.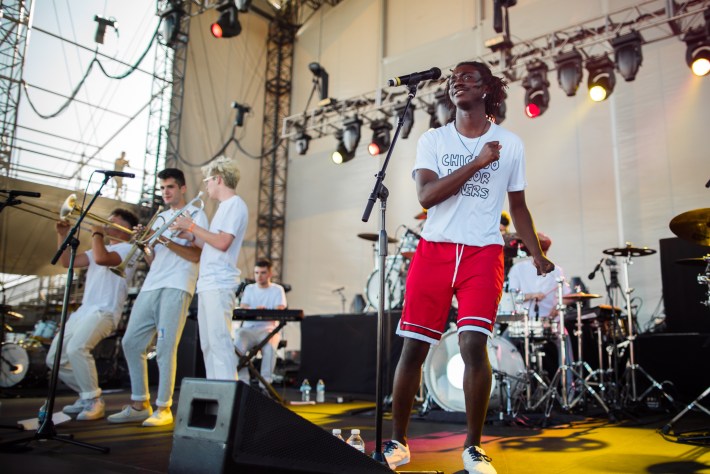 Having heard opener and local rapper Ric Wilson during my daily Vocalo.org listen, I looked forward to and was thrilled with his set. I felt bummed that more people hadn't arrived by then, because his joyous and inclusive show was truly refreshing. I cheered pretty loud when he gave a shout-out to Black women and called on the audience to exalt them too. Special props to his vocalists and wonderful (and very young!) horn section who looked like they were having a blast. Wilson managed to get the dancers in the audience to rap along to Kanye's "Homecoming" and concluded his set with his song "Soul Bounce" (check out the bike-centric video). The crowd lost it when he brought out The Happiness Club, a group of Chicago youth who sing, dance, and rap – they had some serious moves!
Afterwards I checked out the scene at the festival. Despite the corporate venue I was glad to see that the "Keep Tour De Fat weird" ethos was still in effect – there was plenty of face paint, as well as capes, hats, crowns, tutus, and other costumes. Other freakiness was on display during the Tour de Fat dance contest and appearances by sideshow performers.
The Roots were the biggest reason I was curious about this year's festival, and the Roots are, for me, emblematic of a lot of the changes that happened this year. Aside from musician, singer, beatboxer, and comedian Reggie Watts, most of the acts from past years were, IMHO, fairly forgettable whereas the Roots are one of the biggest names in hip-hop.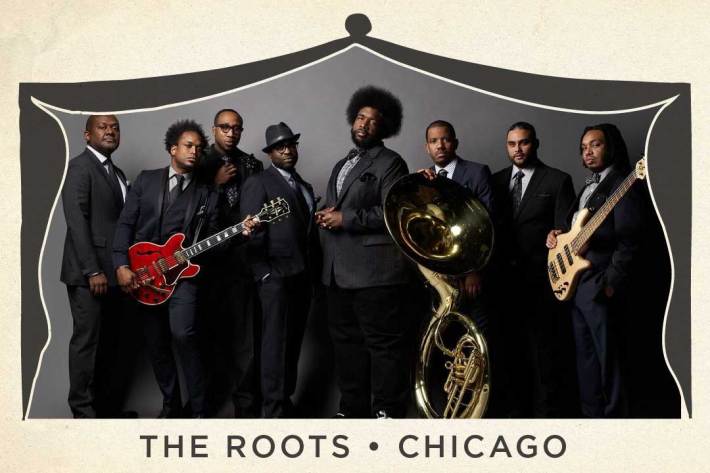 So it wasn't surprising that many of the people at the fest this year seemed to be there for the Roots, not the bikes, but I see that a net positive. I'm not sure how the fundraising will break down for West Town Bikes this year [Editor's Note: see statement from West Town below], but thanks to the headliner a new group of people had the opportunity to learn about that worthy organization, and the local bike ecosystem in general. Was the energy of the festival different this year? Absolutely. Was that a bad thing? Not to me.
Scanning the audience as the Roots' Sousaphone player Tuba Gooding Jr. got basically the entire front section going wild, I saw people who were not the typical Tour De Fat attendees I've encountered in the past six years I've participated. I saw some people I knew from the bike scene and previous fests, but it seems that many folks chose not to show up this year due to the less convenient location and the $25 ticket price (still cheaper than many big-name concerts.) It's worth noting that while in previous years the promotion for the tour played up the bike-y aspect, this year the slogan was simply "The best Craft Beer Carnival EVER."
Many of the complaints I heard from friends in advance of this year's event bemoaned the loss of a "bike fest" or "bike community" spirit. And that's true, this was a concert, not a bike festival. But I'd argue that in recent years the masses in Palmer Square Park drinking five dollar Fat Tires (beers were $10 and up at Northerly Island) weren't all that interested in #bikeCHI. After all, last year when I volunteered at the fest, I heard lots of whining about long beer lines, which is what happens when people come because they want to drink brews, not to ride in a bike parade.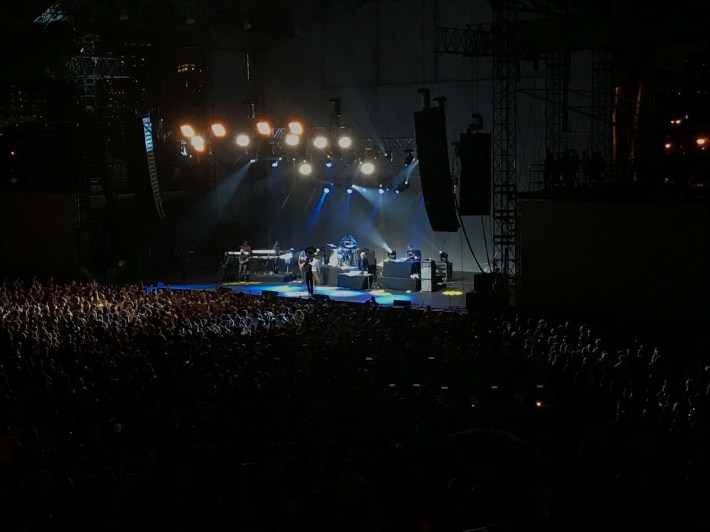 And this is Tour De Fat presented by New Belgium Brewery, which is to say a national event produced by a beer company. I think NBB is pretty cool in that it's worker-owned, sustainability-oriented, and has done a lot for bike organizations in this city (full-disclosure: I worked at the Active Transportation Alliance while New Belgium was our beer sponsor). It's awesome that the company continues to support the great work West Town does teaching youth and other community members bike skills. But New Belgium is not responsible for maintaining Chicago's indigenous bike culture.
We can drink beer and "play bikes" at plenty of other events in our city, from Chainlink Tuesday night rides, to the 606 Block Party, which involves West Town Bikes). Or wait until December and borrow a goofy bike, grab your flask and race in the Afterglow cyclocross race. It would be even better to see some of the people who were griping about this year's Tour de Fat host their own block party, parade or festival benefitting one of our many amazing community bike shops and organizations. These events might not get The Roots to show up, but they'll still be an awesome addition to the local bike scene.
Statement from West Town Bikes director Alex Wilson on this year's Tour de Fat:
Tour de Fat was a great time! This year it was a major concert event at Huntington Bank Pavilion on Northerly Island. Local rapper Ric Wilson opened, pumping up the crowd for headliner The Roots, who gave a fantastic energy-filled set…

New Belgium is making a very generous donation of $50,000 to local nonprofit beneficiary and TdF partner, West Town Bikes, to support community and youth programs. West Town Bikes looks forward to continuing our partnership with New Belgium Brewing and the Tour de Fat in 2018. We wish them them best of luck and fantastic good times as they continue TdF in many more cities for the rest of the 2017 season.
Stay in touch
Sign up for our free newsletter