Chicago
"Gray Line" Advocate Mike Payne Wants Rapid Service on Metra Electric Line
3:26 PM CST on February 17, 2016
The idea of Metra running its Hyde Park and South Chicago-bound Electric District line more like a CTA 'L' line may be gaining traction. If so, much of the credit goes to advocate Mike Payne, who has been tirelessly promoting the concept online and at public meetings. He calls this proposed rapid transit service as "The Gray Line," since that's one of the few colors that doesn't yet appear on the Chicago Transit Authority train map.
The Electric District is already the Metra line with the highest frequency of trains, but it's still a commuter-oriented service. Payne's Gray Line proposal would take that to the next level by running trains every 10-to-15 minutes, expanding the reach of the city's rapid transit network to more South Side residents. He'd like to see the Gray Line fully integrated into the CTA rail system, appearing on 'L' maps and collecting CTA fares.
I interviewed Payne last month at Union Station, a convenient meeting place because he was going to take Metra's BNSF line to his home in a western suburb after attending the Urban Innovation Symposium at UIC that morning. He previously lived in South Shore and other Chicago neighborhoods for decades until he was laid off after working 35 years as an office machines repairman – he now works the night shift at a gas station. He seems to have a good understanding of the transportation challenges many South Siders face.
Payne told me he first came up with the Gray Line idea in 1996 when he was taking his aunt to a bank at 71st Street and Jeffery Boulevard in South Shore. He said an Electric Distict train would pull up at the adjacent Bryn Mawr station and open its doors, but he didn't see anyone get on or off the train. "That's a waste of money, it's not carrying anybody!" he recalled thinking at the time.
Payne says Metra and CTA are competing with each other by not having coordinated schedules, and that the Electric line train comes once an hour outside of rush hour – hardly often enough to be useful. He also believes that Metra's more expensive fares causes many people to choose the CTA in situations where Metra is also an option – even if the CTA trip takes more time.
The Metra fare from South Shore and South Chicago to the Loop is $3.75. Bus fare for the CTA's #J14 Jeffery Jump and #26 South Shore Express buses, which serve different parts of South Shore, is $2.00. Depending on where you live and where you're going, it might be an option take a bus west to the Red Line, which would cost $2.25 ($2.50 for the return trip), but it would be a much longer trip than taking the Electric line. When Payne lived in South Shore, he would ride the 79th Street bus about four miles west to the Red Line to go downtown in order to save money, even though the Electric line was two blocks away.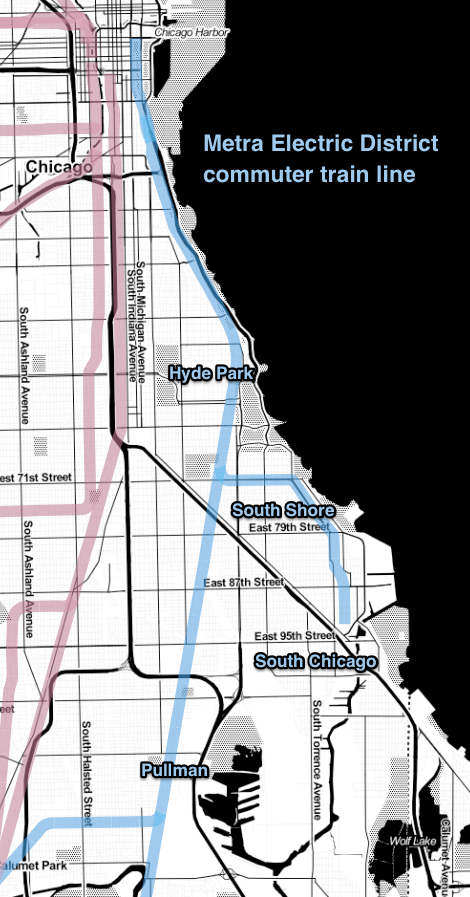 Payne showed me his model of an Electric line car modified for rapid transit service. He has eliminated the bathroom and pushed back other walls to make a larger vestibule, so there's more room for standing and quicker boarding. He added the CTA's logo to the outside to denote their involvement in marketing and scheduling the train, and staffing the stations.
The Gray Line is very similar to the Gold Line concept that Active Transportation Alliance and the Center for Neighborhood Technology are promoting as part of the Transit Future campaign to fund new transit lines via Cook County revenue. But while the Gold Line proposal is about adding trains, the Gray Line plan would also add turnstiles and CTA staff at stations.
Payne says the number of workers needed per Metra train – and the costs of paying their salaries – would be reduced greatly if Metra brought back turnstiles because they wouldn't have as many ticket collectors. Additionally, his Gray Line proposal also provides this enhanced rapid transit service to the Pullman and South Chicago neighborhoods while the Gold Line branches off at 71st to include only South Chicago. The Gray Line wouldn't run on the University Park and Blue Island branches.
Kyle Whitehead, campaign manager at Active Transportation Alliance, said, "Active Trans supports increasing frequencies on the Metra Electric lines so it operates like a true rapid transit line. Obviously there are different ways this goal could be accomplished and at this time we're not supporting one approach over another." He noted that the organization has met with Coalition for Equitable Community Development and other groups organizing for improvements on Metra Electric.
Many South Side-based organizations, including the South Chicago Chamber of Commerce and the Coalition for Equitable Community Development, submitted a letter to the editor of the Chicago Maroon asking transit leaders and elected officials to, among other changes, integrate fares and schedules with CTA and Pace operations, because the Metra Electric "is hampered by a fare structure more appropriate for suburban lines".
Payne is proud that the Gray Line is the only citizen-led project included in GO TO 2040, the comprehensive regional plan, but that status hardly gives it any oomph for implementation. CMAP planner Jesse Elam said the Gray Line is listed as part of the South Lakefront Corridor study, which mentions the Gray and Gold Lines, on the plan's "fiscally unconstrained projects" list (to be built if transit agencies had unlimited funds). But the study didn't recommend a rail project, and nothing has come of it since it was completed in 2012.
Steve Schlickman used to run the Regional Transportation Authority that oversees Metra, CTA, and Pace, and he said in an email "the Gray Line proposal in concept has merit [as it] would provide a level of transit service to neighborhoods that do not have the same transit access as other neighborhoods served by the L." Additionally, he said it "could obviate the need" to build the Red Line extension to 130th Street. Schlickman warned, though, that there are "some very significant capital costs associated with a change from Metra to CTA service" and the CTA doesn't have excess money for capital projects.
Asked if CTA would "adopt" parts of the Electric line's operation, spokeswoman Tammy Chase outlined all of the ways that CTA has improved bus and rail service on the South Side, including rebuilding the Red Line's Dan Ryan branch tracks, "continuing planning work" for the Red Line extension, and adding more trains to the Red Line. Directly, she said, "it would be up to [Metra] to alter service on that line, so we couldn't begin to speculate on marketing or scheduling."
Payne points out that none of these changes would be that different from the way the Electric line used to run – like rapid transit. In some decades last century, Illinois Central – from which Metra bought the Electric District line – trains ran every 10 minutes and used turnstiles to collect fares. The Illinois Central even had magnetic-encoded paper tickets starting in 1966, just like the ones CTA used from 1997 until 2013.
Its electrification happened in 1926, due to concerns about pollution from its steam engines, which "touched off a boom in apartment construction en route" in Hyde Park and "supplied the IC with more riders" [PDF]. It's possible that a return to what was – more trains and CTA fares – could spur reinvestment along the line.
Transportation planner and advocate. Steven also created Chicago Cityscape, a site that tracks neighborhood developments across the city.
Stay in touch
Sign up for our free newsletter