Public Invited to Sunday's "Ghost Bike" Ceremony Honoring Virginia Murray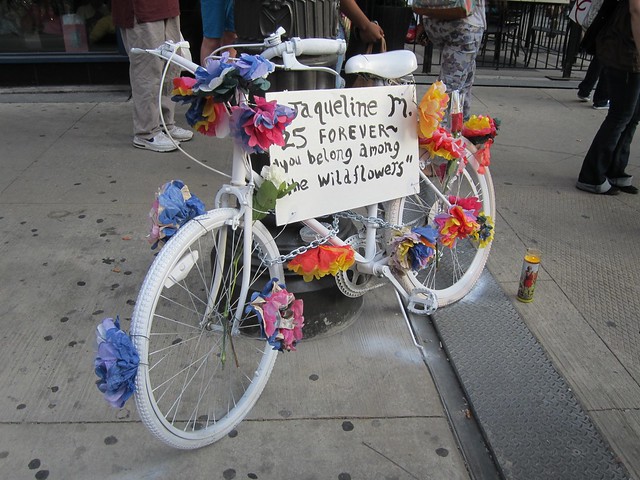 Safe streets advocates are inviting the public to the installation of a white-painted "ghost bike" memorial as a tribute to Virginia Murray, who was fatally struck by a truck driver while cycling last Friday. The installation will take place this Sunday, July 10, at 7 p.m. at the crash site at Belmont venue and Sacramento Avenue.
Murray, 25, was riding a Divvy bike northbound on Sacramento on Friday, July 1, at about 9 a.m., according to police. At Belmont, the northbound driver, employed by nearby business AB Hardwood Flooring, made a right turn, striking Murray in what appears to have been a "right-hook" crash.
Murray was pronounced dead at Illinois Masonic Hospital about an hour later. Her case appears to be the first bike-share–related fatality in the U.S. So far the driver has received no traffic citations or criminal charges, police said.
According to Murray's LinkedIn profile, until a few weeks ago she had been working at Blue Cross Blue Shield of Illinois, the Divvy sponsor, since 2013, most recently as a lead marketing communications consultant. A spokeswoman for the company described Murray as "an avid Divvy supporter, a wonderful employee, and a special person."
A statement released by the North American Bikeshare Association in the wake of the crash offered condolences to Murray's loved ones and the Chicago bike community for this great loss. The association also noted that this was the first fatality in over 70,000,000 bike-share trips taken in the U.S. It added that a recent study by the Mineta Transportation Institute found that crash and injury rates for bike-sharing are lower than previously computed rates for personal bicycling.
Sunday's installation is being organized by local resident Anthony Arce, who says he witnessed the crash, and Kristen Green, who serves on the board of the South Chicago Velodrome Association. "Anthony Arce has been deeply moved by this and reached out to our community to get a ghost bike in [Murray's] honor as he was so deeply saddened by what he witnessed that day," Green wrote in the event invitation. "So we have come together with other members of the community and will be placing a memorial "ghost bike"… to honor her. If you would like to drop a flower or a candle or note there please do."
The event invite includes some poetry by Green. Here's a passage from the poem:
So this tragic thing happened.
A girl died.
She was not a controversial person.
She was just like you.
She woke up one morning and said to herself, "I am gonna ride a bike today."
Innocently she goes to a Divvy ride-share kiosk and, boom, she is riding the statistically safest form of biking to date. She reassures herself that she has got this. She can handle it… She knows the rules of the road quite well, and she goes slow, as the bike was never built for speed in the first place. Then she comes up to Belmont and Sacramento and, boom, before she knows it she is on the ground bleeding.
Update 7/7/16: The ghost bike installation was originally scheduled for this evening. A member of Murray's family reached out to Yasmeen Schuller, owner of The Chainlink social networking site, this morning to request that the event be rescheduled because the funeral and wake are taking place tonight. The installation has been rescheduled for Sunday, July 10, at 7 p.m. so that family and friends can attend. This post has been edited accordingly.