Chicago
Express Train to O'Hare? We Already Have One and It's Called The Blue Line
2:26 PM CDT on July 1, 2015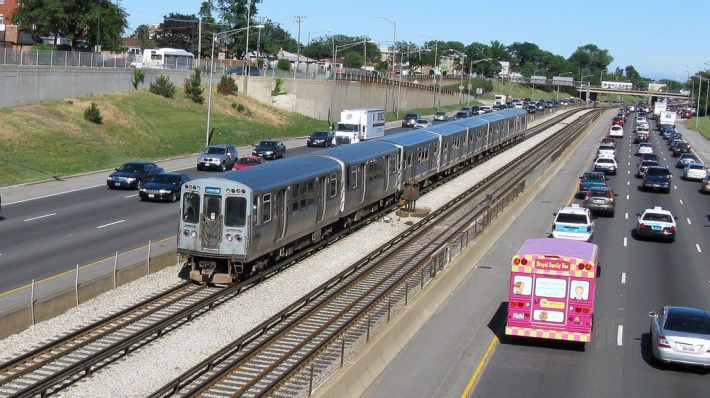 Mayor Rahm Emanuel and recently appointed aviation commissioner Ginger Evans have been calling for new, faster, premium train service from O'Hare to downtown in a bid to improve the airport's standing among its domestic and international peers. They argue that the airport is causing the city to lose business. However, while O'Hare is a low-performing facility, the existing Blue Line service isn't the airport's limiting factor.
The idea of high-speed rail service to O'Hare is nothing new. Under former mayor Richard M. Daley, the CTA spent over $250 million to build a "super station" under Block 37 in the Loop for that purpose. Ultimately, the proposal went nowhere, and the empty station space currently sits unused, a monument to poor urban planning.
High-speed train service to airports – with fares that typically run several times the non-express rate – is becoming a emoree common amenity among busy, international airports. However, express service that runs directly to the center of town is uncommon. Chicago is unusual in that both O'Hare and Midway offer efficient train service to the Loop. According to the Blue Line's schedule, it takes 38 minutes to travel from O'Hare to the Clark/Lake station, a respectable pace that's often faster than driving.
Throwing more money at the O'Hare express idea that could otherwise be used for improving or expanding existing transit service is a bad idea. There are much more cost-effective ways that current O'Hare Branch 'L' service could be upgraded. Moreover, the CTA should work on improving travel times to the airport from many of Chicago's densest neighborhoods that aren't near the Blue Line.
The O'Hare express proposal has been endorsed by Tribune transportation writer and aviation buff Jon Hilkevitch, who recently referred to the Blue Line "old and slow". While age doesn't necessarily make a train line sluggish, deferred maintenance does. However, the CTA is currently in the midst of the $492 million Your New Blue project, which is rehabbing seven stations and removing slow zones from Grand to the airport. The agency estimates these upgrades will shave five minutes off the trip from downtown to O'Hare.
Despite the fact that a trip to the airport will soon take little more than a half hour, Evans recently told the Sun-Times that a premium train line to the airport is "essential infrastructure" because other peer cities have one. However, she also told the Tribune that other cities' airports are "stealing traffic" from Chicago because O'Hare has many flight operations problems that put the airport at or near the bottom of on-time rankings, so perhaps premium train service shouldn't be her top priority.
The Blue Line is already a competitive train service
As of April 24, 2015 [PDF], only 3.3 percent of the O'Hare Branch tracks were under slow zone restrictions, in which trains are limited to 35 mph. Some of the branch's tracks are already in good enough shape to allow for speeds greater than the CTA's systemwide speed limit of 55 mph, and all of its train cars are capable of traveling 70 mph. One reason for the current speed limit is that faster speeds would result in more wear-and-tear on the tracks and wheels, thus higher maintenance costs.
The Blue Line is already a great alternative to taking a taxi. FiveThirtyEight analyzed travel times between airports and central business districts in major cities and found that only in Chicago, Minneapolis, and Honolulu was it faster to take transit than a cab.
On weekdays, trains run between Clark/Lake and O'Hare every 2 to 8 minutes during rush hours, with ten-minute headways during non-peak times. Airport express trains in other cities typically have 15-to-30-minute headways. Waiting longer to catch a premium train to or from O'Hare might nullify any advantage from the higher speed.
The express would be an expensive project with limited benefits
The current push to create "world-class" train service to O'Hare is a distraction from actually fixing what's wrong with Chicago's transit system. In a recent Sun-Times op-ed, public policy consultant and former mayoral candidate Dr. Amara Enyia argued that spending money to create a premium train line would be a case of skewed priorities. Rather, she argued, the focus should be on improving transit for Chicago residents. "Maintaining our streets continues to be a challenge that affects transit time, quality, and safety," she said, adding that CTA service cuts have made it more difficult for residents to access jobs.
Building the infrastructure for the O'Hare express would be costly and complex. In addition to somehow creating new right-of-way for the trains, new platforms would be required at O'Hare and the downtown station (likely the half-finished Block 37 super station) in order to keep regular Blue Line customers from boarding the express trains.
Evans shared with the Sun-Times her far-fetched idea of building double-decker Blue Line tracks to make space for the new trains. She argued that more capacity is needed on the Blue Line in general. However, outside of rush hours, the line already has enough capacity to carry more trains.
She pointed to premium train services in London and Germany, which she said help make their airports "premier international gateways." Notably, the the London Heathrow Express train costs $62 round trip if you don't buy your ticket in advance and has 15-minute headways.
Previous studies suggest the O'Hare express trip would take 25 minutes or less, and cost $20 to $25. In contrast, a non-stop train ride from Amsterdam's airport to the downtown costs less than $5 and leaves every 5-10 minutes – which sounds very similar to the Blue Line.
Instead of creating premium service, upgrade the Blue Line
Here are some ways the Chicago Department of Aviation and the CTA can improve the Blue Line's O'Hare operations within the next two years:
Create more space for luggage on the trains. This could mean removing seats on some cars running during peak flight times to make room for the kind of luggage racks typically seen on airport shuttle buses.
Improve the signage at the O'Hare station. The current "Next Train" and "Do Not Board" signs on the platforms are easy to miss. Have you ever boarded one train with its doors open, only to be told, or come to realize, that it's not leaving but the other train is?
Improve the walk from the O'Hare terminals to the 'L' stop. Replace dingy ceiling tiles and modernize the lighting and décor.
Experiment with different ways of marketing the Blue Line to travelers. Are visitors to O'Hare's official website finding information about the CTA, in their language? How can airlines be involved in promoting the service?
@urbanophile this double-decking the blue line for 'premium rail' nonsense is the Illiana of transit

— michael cornfield (@mjCornfield) June 25, 2015
One thing's for sure: If the city is going to create express rail service to O'Hare targeted at well-heeled travelers, it shouldn't do so with any amount of public money. Otherwise, it could become the transit equivalent of the Illiana Tollway, a taxpayer-subsidized boondoggle that would get relatively little use, which may never provide a return on investment.
Transportation planner and advocate. Steven also created Chicago Cityscape, a site that tracks neighborhood developments across the city.
Stay in touch
Sign up for our free newsletter